About Saudi Arabia Visit Visa From Dubai / UAE
If you are a UAE resident and looking for Saudi Arabia visit visa from Dubai, Al Haneen is your best choice & the right travel agency to get your saudi arabia visit visa / business visa done.
Visa Nations is highly experienced in getting Saudi Arabia Business / Visit Visa, so you can relax & plan for your Saudi Arabia trip.
Visa Nations will help you with the Invitation from Saudi as well. If the client already has the Invitation, we can assist you in documentation and getting appointment in the VFS Tasheel. At the time of appointment, you have to visit the VFS for the Biometric submission. Our PRO will be there to help you with all the procedures.
Visitors with Business Visas must enter Saudi Arabia through road for the first time.
Saudi Arabia Visit Visa / Business Visa Documents Required For UAE Residents
Passport
2 Photograph
UAE Visa Copy
Emirate ID Copy
NOC From the company
Normally the Saudi Arabia Business Visa will be ready in 7-10 business days.
Document Required to apply for Saudi Arabia Visa :
Original Passport with UAE Residence (Visa 3 month and Passport 6 months Validity minimum should be there)
Emirates ID copy Photo - 1 (white background)
NOC from Company / Sponsor Trade / Commercial License copy (for Business Visas)
Invitation / Visa Document from Saudi (we can assist for Invitation)
Saudi Arabia Visa Sample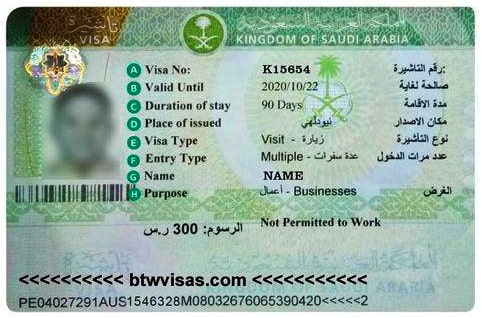 Visa No.
Valid Until
Duration Of Stay
Placed Of Issued
Visa Type
Entry Type
Name
Purpose
How to Apply
1
Vivamus commodo elementum puruis auctor purus dui, in elementum erat lobortid hendrerit tortor vitae metus laoreet mas at mi felis.
2
Nulla vel tortor luctus, tempus ex convallis, maximus lib d ferm sim entum, purus in ultricies hendreto curs elerisque sem leo in diam.
3
Maecenas id leo efficitu ltrices odio ne ulputate seonec porta sed arcu nec ultricuis ex e ulputate et efficitur nec, condimentum in risus.
Apply For Visa